Beloeil, April 12, 2023 – Members of Agiska Cooperative, Covris Cooperative and Uniag Cooperative gathered on April 11 for the 13th edition of the Women's Cooperative Forum at the Hôtel Rive Gauche in Beloeil.
This day of gathering is an annual tradition for women cooperators of the Montérégie and Centre-du-Québec, which aims to contribute to their professional and personal development. About one hundred women, members, employees and friends, from the three host cooperatives, took part with great enthusiasm.
The delicate balance between work and family
The day began with the conference " Balancing work, family and well-being in agriculture", presented by Mrs. Nathalie Tanguay, agr., M.Sc., coach and organizational development consultant, which was very well appreciated. Ms. Tanguay provided participants with practical advice on how to achieve happiness, while emphasizing the importance of establishing personal goals.
This conference was followed by a delicious lunch from Le Coureur des Bois, featuring a soup of leeks, a top of guinea fowl leg, mushrooms, miso sauce and a tasty maple dessert.
In the afternoon, Ms. Danièle Sauvageau, coaching mentor, held a conference on the commitment to sustainability. Danièle Sauvageau was the first woman to lead the Canadian women's ice hockey team to a historic victory at the Salt Lake City Winter Olympics in 2002. She spoke about the importance of being there for others, but also being there for yourself. The participants seemed particularly moved by Ms. Sauvageau's speech, inviting them not to be afraid to take their place in a predominantly male environment.
The organizing committee of the Women's Cooperative Forum presented a donation of $500 to Earth Day, the equivalent of $5 per participant. The symbolic cheque was presented to Ms. Valérie Mallamo, Executive Director of Earth Day Canada.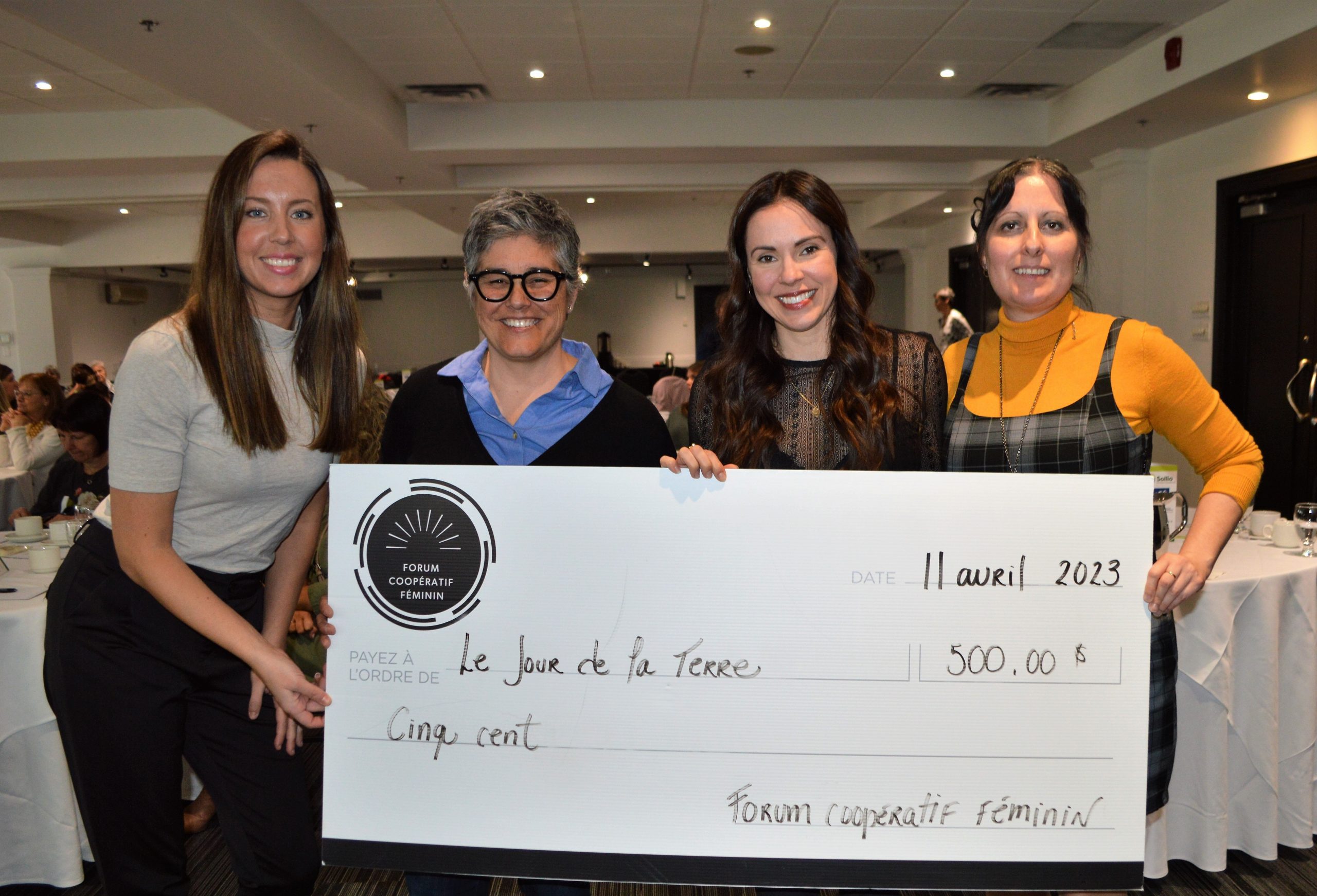 From left to right: Lysanne David (Uniag Cooperative), Valérie Mallamo (Earth Day Canada), Valérie Lemaire-Jodoin (Agiska Cooperative) and Annie Robert (Agiska Cooperative)
In addition to a few attendance prizes that were drawn at random, each guest received a maple candy from Citadelle, a bag of fresh cheddar from Fromagerie Saint-Guillaume and a seed pack, courtesy of W.H. Perron. The Women's Cooperative Forum would like to warmly thank the event's partners: Sollio Cooperative Group, Financement agricole Canada, Desjardins Entreprises, National Bank, W.H. Perron, Uniprix, Citadelle, Viridis and Hôtel Rive Gauche.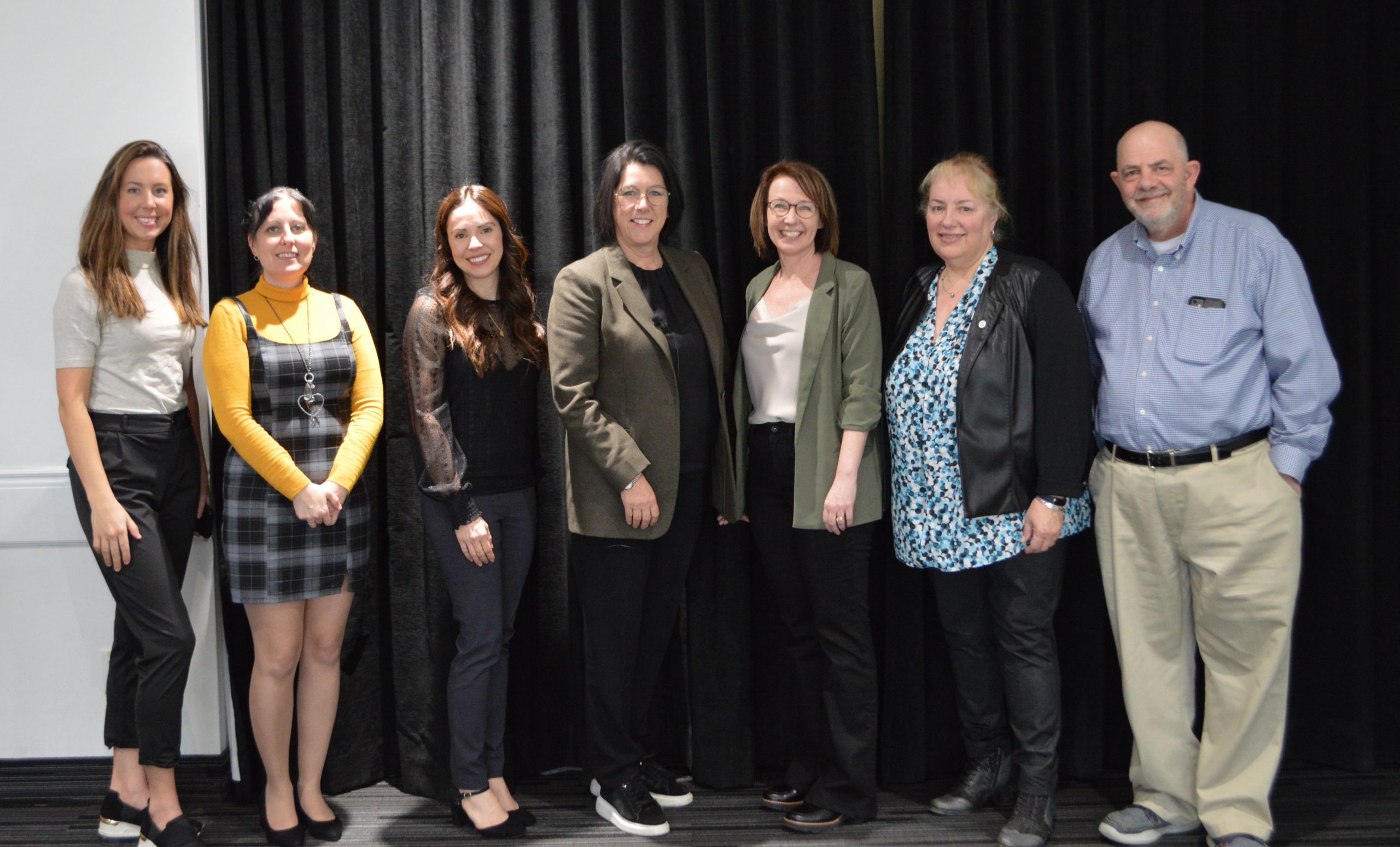 From left to right: Lysanne David (Uniag Cooperative), Annie Robert (Agiska Cooperative), Valérie Lemaire-Jodoin (Agiska Cooperative), Danièle Sauvageau, Nathalie Tanguay, Jeannine Chartrand (Covris Cooperative) and Alain Mongrain (Covris Cooperative)