20 years of career for our two experts! 
2020 marked 20 years of seniority for François Jacques and Simon-Pierre Loiselle. Twenty years ago, our two young men completed their training and began their careers in the network of La Coop Fédérée (now Sollio Agriculture). Their passion to help their clients combined with the experience they have acquired have made them true monuments in their respective region. Over the years, François and Simon-Pierre have distinguished themselves by the quality of their recommendations and their passion towards their client's performance. We believe the clients who have been with François and Simon-Pierre since their beginnings have the most appropriate words to pay them tribute.
François Jacques, DTA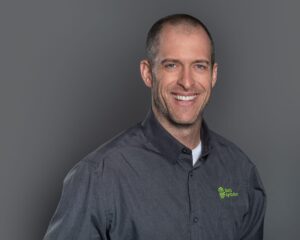 François was born in the upper Laurentians. Following his time at Collège d'Alfred, he alternated in his consulting role on either side of the Ottawa River. For the past ten years, he has skillfully straddled the Outaouais and Eastern Ontario. François has become a technical reference and the quality of his work positively influences all team members. Over the years, several awards and honours have been bestowed upon him by the network. These numerous nominations within the network's all-star team, combined with the outstanding performance of his clients, place him among the elite of the profession.
François has been working with us for twenty years now to ensure the excellent nutrition and health of our herd. Throughout these years, he has demonstrated his ability to listen, his devotion and his generosity, which are greatly appreciated. François is a very hard-working man, always ready to answer our questions as soon as possible and we thank him for that. "At first, when I was twelve years old, François came to advise my father on cow feeding. Over the years, they have passed on their knowledge of nutrition to me and I'm very happy with the great relationship I still have with François," says Steve.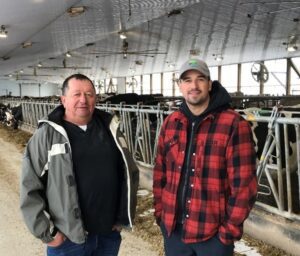 In addition, he was able to get involved and advise us throughout our project to build a robotic free stall barn. It's not just any representative who willingly offers to get his hands dirty and come push the cows during the first days of animal transfer! This help was greatly appreciated by all of us! We would like to thank you and congratulate you for these many years of career and we hope to have many more of them by your side! Thank you!
A & L Desnoyers Farm
François, François, François… How to describe almost 20 years of collaboration! Because, let's face it, you left us for a few years, but finally you saw the light and came back to us! Years of cooperation, changes, improvements and good advice have allowed the family business to grow and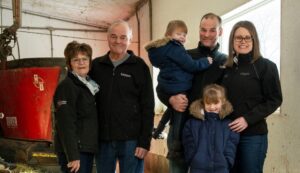 improve. You were able to bridge the gap between the two generations that operated the business, encouraging the next generation, while reassuring the parents. François, I would sum up your professionalism, knowledge, enthusiasm and work discipline in two words… "'Ah, OK'". When a competitor comes to do prospecting and asks me how the company is doing, if I am happy with my results, I always answer that it's working very well, that I've been with my representative for nearly 20 years and that I'm very satisfied. Then, he asks me who I'm doing business with and I answer: "'François Jacques de la Coop". Then they answer: "'Ah, OK, I understand. François, thank you for everything and I look forward to continuing to work together for many years to come. The Séguin family
Simon-Pierre Loiselle, DTA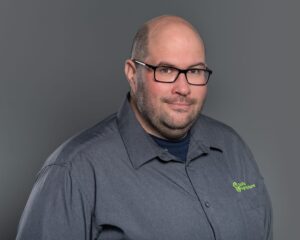 Simon-Pierre was born in the South-West of Montreal. After attending Collège d'Alfred, he worked a few months at the Coop de Ste-Marthe and then accepted a consulting position at the Coop des Frontières, now Uniag Cooperative. He steadily progressed to become a true monument for the dairy sector of his cooperative. Over the last 4 years, he's been cumulating honours with 3 Consultant of the Year titles in the network. The status quo is never an option for Simon-Pierre! He pushes his colleagues, his coop and his clients to always do better.

It all started with our father's farm in 1988.  When we made the decision to change feed companies Simon was just starting out with the Coop, so it ended up being the perfect timing for us. Simon loved cows and was very knowledgeable about nutrition and healthy cows.  He was very good at sharing information that he learned along the way and we have always liked this about him. Over the years we have come to rely on Simon more and more.  When we changed to TMR feeding, Simon guided us
through the transition.  Another transition we made was when we moved to the new free stall barn and Simon helped us with the planning and was there every week to make sure everything was going smoothly. Throughout all these changes, there was also changes in our team.  We formed a company with Chris, Nick and Jenna.  Now they work very well with Simon and the Coop team. Simon is a major factor to the success of the Soesbergen family farm. Soesbergen Farm
Twenty years already, how time flies! I still remember Simon-Pierre's first visits as the Coop's ruminant adviser (we shouldn't have looked inside his car though, because it didn't give us much of an impression -haha). He joined us the same spring that we were hosts of the HOB Holstein Club Barn Day. It goes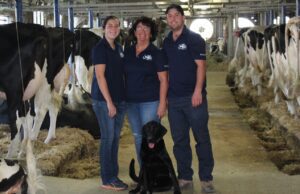 without saying that he was a great help on that day, he proved himself! Over the years, we have developed more than a business relationship, it is truly a relationship of trust and friendship. Simon-Pierre is an ally on our team, a player we can always count on through the successes and trials we have experienced. He always brings his opinion to the table and has made us evolve through our projects. Today, Simon-Pierre is a mentor for my children, he supports them in their vision of the future and helps them grow within the company! Thank you for your dedication, keep on being the person you are! We love you! Brimer Farm