Our priority: to offer you a quality service. To do this, we must recharge our batteries…
Our service counter at our head office in Napierville (4 rang St-André) will be CLOSED as of Noon on December 23rd until Wednesday January 3rd inclusively.
However, every effort has been made to provide the best services while giving our teams some well-deserved time off.
Animal production
Here is the schedule of the sales support team for animal productions:
December 23: open, December 24: closed, December 25: closed, December 26: closed, December 27: open – working from home, December 28: open – working from home, December 29: open – working from home, December 30: open – working from home, December 31: closed.
January 1: closed, January 2: closed, January 3: open.
Click here to to see the feed delivery schedule.
For an emergency during the closed days, contact Marie-Philip Brisson 514-206-4330.
Crop production
The sales support team for crop production will provide service until December 23 at noon.
This service will then be CLOSED from December 24th to January 3rd inclusively.
Administration and finance
The administration and finance team will be recharging its batteries from December 23 at noon until December 27 inclusively. The service will be open on December 28 and 29 according to the normal schedule and then from December 30 at noon to January 3 inclusively, the service will be closed.
*Please note that cheques can be deposited in our BMR, BMR Express and Agrizone stores. Please consult the respective store schedule before coming to the store.*
A picture is worth a thousand words! Consult the following table, which illustrates the opening of our various services during the holiday season.
We look forward to seeing you on January 4th, 2023!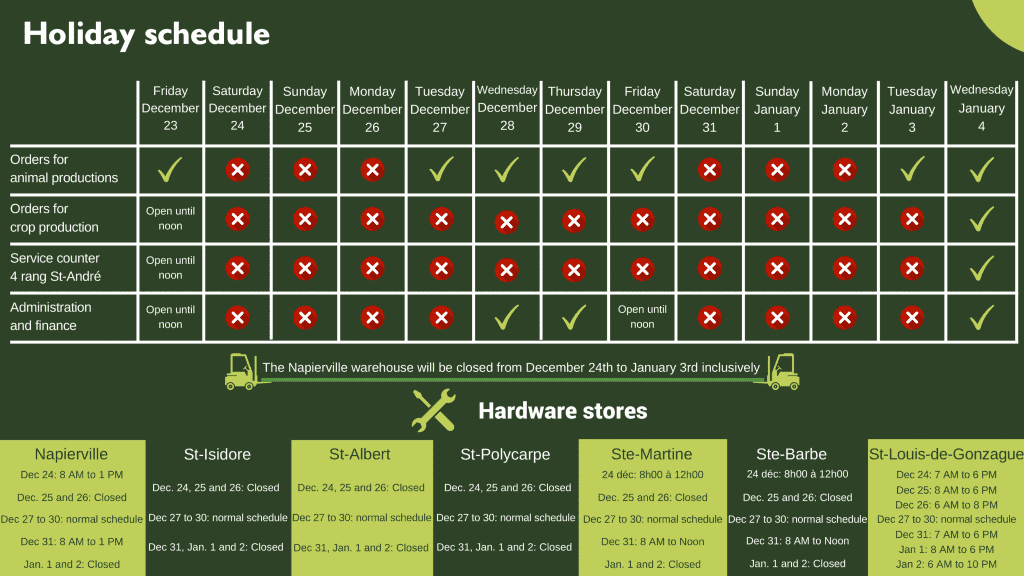 Hardware stores schedule
Sonichoix & BMR Express Saint-Louis-de-Gonzague
December 24: 7:00 am to 6:00 pm
December 25: 8:00 am to 6:00 pm
December 26th to 30th: 6:00 am to 10:00 pm
December 31st: 7:00 am to 6:00 pm
January 1: 8:00 am to 6:00 pm
January 2nd: 6:00 am to 10:00 pm
Agrizone Saint-Albert, Agrizone Saint-Isidore, Agrizone Saint-Polycarpe
December 24th, 25th and 26th: Closed
December 27th to 30th: Normal schedule
December 31st, January 1st and 2nd: Closed
BMR Express Sainte-Barbe, BMR Express Sainte-Martine
December 24th: 8h00 am to 12h00 pm
December 25th and 26th: Closed
December 27th to 30th: Normal schedule
December 31st: 8h00 to 12h00
January 1st and 2nd: Closed
BMR Napierville
December 24th: 8:00 am to 1:00 pm
December 25th and 26th: Closed
December 27th to 30th: Normal schedule
December 31st: 8:00 am to 1:00 pm
January 1st and 2nd: Closed